Plymouth plumbing misconnections 'cause' pollution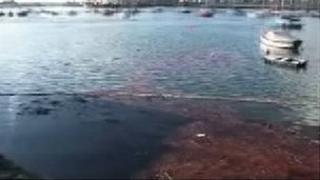 Some businesses and properties in Devon have caused sewage to run into water systems due to plumbing misconnections, the Environment Agency (EA) has said.
EA said it had investigated more than 200 incidents of sewage going into surface drains rather than sewers since January in the Plym Estuary area.
The organisation said it may be accidental or "unscrupulous tradesmen".
Mike Ingman from EA said: "It is quite a serious problem, it is having an impact on water quality."
Blocked storm drain
EA, South West Water and Plymouth City Council have been investigating the problem as part of the Plymouth Urban Diffuse Pollution Project by using cameras, fluorescent dye and echo testing at sewage outfalls and under manhole covers.
EA said problems could range from washing machines that have been wrongly plumbed in, to commercial businesses or schools discharging sewage into streams and rivers.
Mr Ingman said: "In Plympton a pub-restaurant was discharging fatty food waste into a storm drain and had actually blocked this storm drain which was used to alleviate flooding.
"It's not always done deliberately, sometimes it is just accidental particularly where there's been changes or extensions to properties, but in some cases unscrupulous tradesmen could be connecting in where it is cheaper or easier for them to do so."
The project will soon start investigating the Tamar Estuary.
Earlier this month it was reported that 16 bathing areas in the South West, including Plymouth Hoe East and Plymouth Hoe West, failed water quality results under the European Bathing Water Directive, compared with two last year.