Anger over River Walkham hydro-electric scheme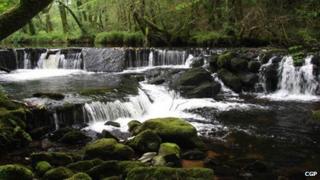 Campaigners are seeking legal advice in a row over planning permission for a hydro-electric scheme on Dartmoor.
The scheme will involve building a turbine on the River Walkham, rebuilding an ancient weir and removing water from a salmon river.
People living along the river say Dartmoor National Park Authority (DNPA) has failed in its duty to protect historic and natural assets.
But DNPA said the maintenance was needed to maintain the historic weir.
DNPA gave permission for the scheme at Huckworthy by renewable energy firm Clean Green Power (CGP) despite refusing it earlier in the year.
Campaigners say nothing has changed and they are seeking legal advice on getting the decision overturned.
Pam Hayward said: "I feel we've been let down very badly by the national park authority and they have allowed an important heritage asset to needlessly be destroyed.
"We are deeply, deeply upset."
Safeguarding future
Dartmoor National Park Authority said the weir had a history of alteration, but its future was at risk because of the lack of maintenance.
Bill Hitchins, from DNPA's planning committee, said: "There will be an element of concrete construction but it will be mitigated by older cladding and obviously water overflow coming over the top of the weir.
"I suppose any artificial intervention in a river system doesn't look nice, but we're not in an ideal world, we have to work within the planning constraints."
Mr Hitchins said the plan was approved the second time because DNPA received additional information which identified certain weaknesses in the weir.
He said: "At the end of the day we can only work on the information we are given and we have to make a balanced judgement and as it happened in the second meeting the balance was slightly in favour of the application."
DNPA said the new scheme contributed significantly to safeguarding the future of the whole heritage asset and at the same time provided a new source of renewable energy.
CGP will build an improved fish ladder - a structure allowing fish to travel over a weir on the river.
The firm will also not be allowed to abstract water if the river drops below a level which allows fish to migrate.
The park authority received 69 letters of objection, including from the Dartmoor Society and the Council for the Preservation of Rural England, and two in support of the application.
CGP said the average output of the hydro-electric generator would be enough to power about 100 homes.