Devonport frigate HMS Montrose in hospital ship trial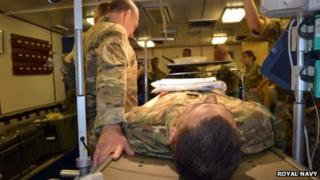 A Devonport-based frigate was turned into a hospital ship during a major exercise in the Mediterranean.
HMS Montrose became a simulated emergency hospital unit, complete with a makeshift intensive therapy unit in the ship's wardroom.
Royal Navy's Response Force Task Group medics tested the concept of treating casualties on a non-specialist ship.
Intensive care nurses, orthopaedic surgeons and anaesthetic consultants were involved in the exercise.
HMS Montrose is currently on deployment as part of Exercise Cougar - an international exercise involving more than 3,000 sailors and marines.
During the deployment, the ship has been home to the pre-landing force - a combination of Royal Marines, Army Commandos and Royal Navy divers whose job it is to conduct reconnaissance missions on the land before the main invasion force moves in with troops and kit.
Given the dangerous nature of the work of the small reconnaissance teams - and the possibility of personnel being wounded in a real operation - the medics were testing whether they could provide vital treatment aboard HMS Montrose before transferring the casualties to more permanent hospital facilities.
Commanding Officer Cdr James Parkin said: "Pre-landing force operations are vital to ensuring the success of amphibious operations, but being the first boots on the ground in hostile situations, the chances of casualties cannot be overlooked.
"Knowing that surgical support of the highest possible standard is available onboard my ship, the decision to deploy forces ashore is made that much easier."