Corbin family complete Turin bike ride for depression awareness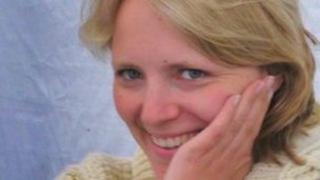 A family from east Devon has raised more than £50,000 by cycling 800 miles (1,287km) to Turin.
The Corbin family from Uplyme cycled for 13 days in memory of their daughter Philippa, 27, who killed herself in 2011 after suffering depression.
In October, 28 cyclists cycled from Axminster to reach Turin's Salone del Gusto food festival.
The money will go to The Human Givens Foundation and The Charlie Waller Memorial Trust.
The family, which has just returned, decided to ride to the food festival as Ms Corbin and her father, Hugh, regularly went to the event.
Ms Corbin's sister Maddy said: "Philippa was always in our minds the whole time.
"Each evening we'd toast Philippa and I know I had lots of conversations, while I was cycling along, with people about her."
The family said they hoped the ride would raise awareness about depression as a serious illness, with the World Health Organisation predicting that by 2020 it will be the second most common health problem after heart disease.
Mr Corbin added: "If we can save others from going through what we've been going through then it would have been worthwhile."