DNA tests for rare birch trees from Caucasus Mountains
By Chris Ellis
BBC News Online, South West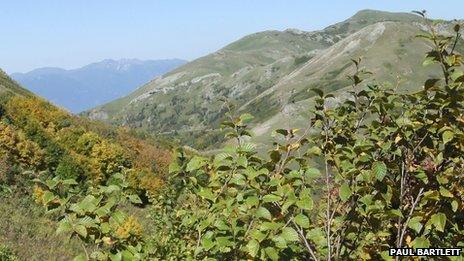 The DNA of endangered trees found only in the Caucasus Mountains will be analysed by a botanist in Devon and a London university in a bid to find out more information about their evolution.
The birch tree seeds have been brought back to Devon by Paul Bartlett, from Stone Lane Gardens, in Chagford.
Scientists from Queen Mary, University of London, plan to test three species of birch found only in the mountain range, which extends across several countries including Georgia, southern Russia and Azerbaijan.
Mr Bartlett said he believed the research had never been done before and was new to science.
He said: "The trees have been grown in the UK in the past, using seed sent by Caucasian botanists, but the seed I have collected is possibly the first seed brought back by anyone from the UK."
Mr Bartlett will germinate the seeds and raise the seedlings in Devon.
Tissue samples will then be sent to the university for analysis, which includes counting the number of chromosomes, which house the genetic code DNA.
Mr Bartlett said: "I can then use that information to decide which birch they are likely to be related to.
"Eventually they can produce a kind of fingerprint of that species, which enables them [scientists] to check against other plant DNA to determine whether they are the same species or not."
Mr Bartlett will also send the seedlings to other plant collections for further study.
Mr Bartlett said: "Despite trees [those found in the mountains] being grown in several botanic gardens in the UK, we know very little about their populations in the wild."
He was in the Caucasus Mountains for three weeks studying the species Betula medwedewii, Betula raddeana and Betula litwinowii.
He studied where the trees grow and what altitude they prefer, what height and shape they grow in the wild and what competition and dangers the birch species face.
"I am hoping that the results of my research will broaden the English-speaking world's knowledge of the birch species that are endemic to the region.
"They are very rare, even in the wild," he said.
He said that apart from the work of Kenneth Ashburner, who was the deceased founder of Stone Lane Gardens, and birch expert Hugh McAllister, the only research published on the species in the wild were by Russian and Georgian botanists.
He added that he was not aware of any new research published in English.
Mr Bartlett plans to publish his research in a number of publications, including one by the Royal Horticultural Society.
Related Internet Links
The BBC is not responsible for the content of external sites.