Bickleigh Down 'eco village' plans approved for Plymouth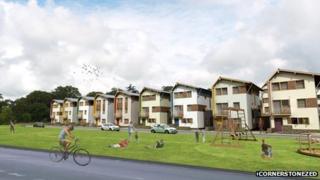 Plans for an "eco village" on the outskirts of Plymouth have been approved by the city council.
The development at Bickleigh Down, near Roborough, will consist of 91 "code six" homes - viewed as the highest category of energy efficient housing.
Developer CornerstoneZED said building the zero-carbon homes should create about 30 jobs.
Photovoltaic (PV) roofs should generate enough energy so residents will not have any gas or electricity bills.
The PV semi-conductors will convert solar radiation into direct current electricity and the homes are expected to produce more energy than they use - with the excess going to the national grid.
'Self-build options'
Plymouth City councillor Mark Lowry said: "What that means in real language is that you don't get any bills for gas or electric in the future," he said.
"You will save approximately £1,000 a year and additionally you will contribute about £720 a year to the grid - so you will actually make money."
"This innovative scheme will put Plymouth on the map as a centre of excellence for green construction and low carbon business."
The eco village will include three, four and five bedroom family homes, with a small number of apartments and the opportunity for some self-build houses.
Tim Byles from CornerstoneZED said: "We'll build according to demand, but what we envisage is mainly family homes, with some self-build options - which are obviously more cost effective," he said.
Now that planning permission had been granted, the project could now "go very rapidly", with building work starting in the new year and the first homes ready by the summer, he added.
CornerstoneZED said the eco village would be the UK's first large scale, zero carbon community, delivering direct economic benefits with sustainable jobs.
Although he could not give an exact figure, Mr Byles said the new homes would be priced at "market level" for the area.
Figures from the Land Registry of England and Wales showed the average price of a detached house in Plymouth earlier this year was about £250,000.
The code for sustainable homes is an environmental assessment method for rating and certifying the performance of new homes, according to the Building Research Establishment Environmental Assessment Method (BREEAM).