Fears for future of Devon care homes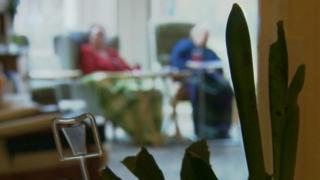 The owner of a Devon nursing home says many care homes across the county are facing closure.
Devon County Council pays homes £381 or £415 a week for each person it places in residential care with dementia, depending on the level of care.
They are similar figures to other councils in the South West, yet authorities outside the region pay anything up to £936 a week.
The council said it tried to set fair fees.
Jonathan Crawford, of Forde Park Nursing Home in Newton Abbot, said: "Lots of homes are in difficulty and are hanging on by their fingernails."
He said Forde Park, which cares for 39 people, was breaking even, but he was worried that he would not have enough money for unexpected capital spending.
A judge decided earlier in November that the county council failed to meet its public sector equality duty on setting fees and the county is re-examining its fees.
But there is no guarantee they will go up and the Devon Quality Care Forum, which represented four care home owners, said another legal action may follow.
Spokesman Alan Beale said: "I would much rather talk than be fighting in the courtroom, it's costly and stressful, but we have to protect our residents."
Devon County Council said in a statement: "Care home businesses can, and do fail for many reasons including quality, a failure to attract private customers and failure to meet changing demand.
"We've been to court twice on this issue and in both cases they have found that we have given due regard to the cost of care when setting our fees.
"We try to set our fees at a fair level, currently higher than other authorities, so that well run and efficient homes are sustainable, but we have a clear duty to use public money wisely."