Conflict fears over PCC candidate Nicky Williams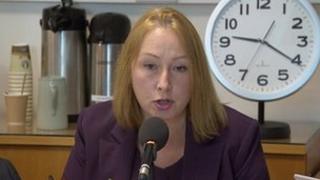 Concerns have been raised about a potential conflict of interest for a police and crime commissioner (PCC) candidate.
Nicky Williams, a Plymouth City councillor, is the Labour Party's candidate for the PCC elections in Devon and Cornwall.
Ms Williams also sits on the police and crime panel, which will oversee the commissioner's work.
She said she would step down from the panel if she was elected.
A spokesperson from the Electoral Commission said her position on the panel did not preclude her from putting herself forward as a PCC candidate.
The police and crime panel is similar in make up to the outgoing police authority and has 20 members in Devon and Cornwall, taken from county, unitary and district councils, along with two independent appointees.
'Clear guidance'
Its role is to provide checks and balances on the commissioner and scrutinise their performance.
Concerns about a possible conflict of interest were first raised with Cornwall Council - which is overseeing the election - by the chief executive of the police authority.
The council issued a statement which said advice had been given on the matter, but it would be "inappropriate" to disclose what the advice had been.
Ms Williams said she had sought legal advice and been assured she had done nothing wrong.
"My day job means I have to sit on that panel - it is an appointment of the council," she said.
"If I'm elected I will be standing down from the panel."
Devon South West's Conservative MP Gary Streeter said clear guidance was needed from the Electoral Commission and the Home Office.
"These are new elections and therefore the rules may not be so clear as they might be, so I think it wants ruling on for the future and I will be taking it up with the Electoral Commission and the Home Office," the MP said.
The police authority is due to be replaced by the new commissioner after an election for the new post on 15 November.
The commissioner will be responsible for the force's budget, and the hiring and firing of chief constables.
There are 10 candidates for the post.