Flybe in half-year profit loss of £1.3m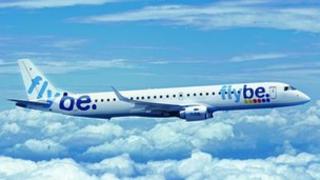 The regional airline Flybe has reported a pre-tax loss of £1.3m in the six months to September.
The Devon-based company said the rising cost of fuel and a decline in passengers contributed to the loss.
Chief executive Jim French said: "Flybe is currently operating in possibly the most challenging conditions since its creation."
In 2011 the regional airline reported a pre-tax profit of £14.3m for the same period.
'Customer resistance'
Flybe said the cost of fuel had increased by 22.7% from £55.9m in 2011 to £68.6m this year, which it had not passed on to its customers.
Mr French said: "In the long term if fuel stays where it is the customers will have to adjust to that, but as we all know disposable income has gone down substantially in recent years and there is a reluctance and resistance by the customer to pay the extra."
Flybe, whose headquarters is in Exeter, said its revenues had also been hit after the Office of Fair Trading brought in legislation requiring all debit card charges to be included in headline prices, rather than adding an additional surcharge at the end of the online booking process.
Flybe UK's revenue for the first six months of the year stood at £328.5m and said it had a "cost saving plan" for the year ahead.
The company's share value has fallen from 325p in 2010, to 52.4p.