Plymouth Argyle stadium waste costs city council £350k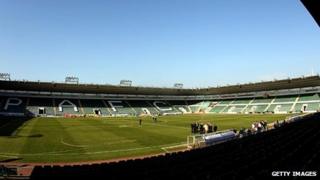 Removing "spoil" from the refurbishment of Plymouth Argyle's football stadium 10 years ago has cost council tax payers £350,000.
The spoil heap at Central Park - about half the size of a football pitch - was from the demolition of the old Home Park stadium.
Plymouth City Council was left to foot the bill after Argyle went into administration last year.
Balfour Beatty has used the spoil as infill at the park's old swimming pool.
In 2001, a multi-million pound redevelopment saw three sides of the Home Park stadium refurbished.
'Children at risk'
At the time Argyle's owners reached an agreement with the council to leave the spoil material on council-owned land behind the stadium.
The plan was to use the spoil to complete the redevelopment of the fourth side of the stadium at a later date, however because of financial constraints that never happened.
A group known as the Friends of Central Park, which had safety concerns about the waste, has welcomed its removal.
Spokeswoman Pat Robinson said: "We raised the issue in 2006 and again in 2010 when we had photographic evidence of fly tipping that was occurring on the site.
"There were old fridges, there was evidence of needles, beer cans and camp fires.
"We were very concerned that children who use the park could have been at risk and the council would have been liable as the owner of the land."
'Cost more'
But Michael Leaves, who was the Conservative councillor responsible for the spoil's removal until his party lost control of the council in May, said he believes Balfour Beatty - the firm which built the city's new £46.5m Life Centre - should have done the work for free.
"It was our intention that [Balfour Beatty] move it free of charge to infill the old swimming pool," he said.
"If it didn't do this, it would have had to bring infill in to do it which would have cost them a lot more money."
But Plymouth City Council said removing the spoil was not part of Balfour Beatty's contract and other estimates to remove it were even higher than the £350,000 it had to pay.
It said the spoil has been used to create a bigger and better "events space" at Central Park, which could be used for car shows, fun fairs and the circus when it is completed.
No-one from Balfour Beatty has been available to comment.