Comet administrators looking into charity gift cards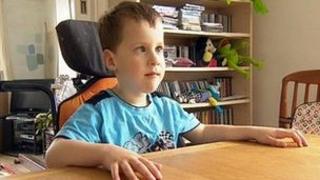 Administrators for electrical retail chain Comet say they are to work with a charity which issues gift cards to ensure people the charity supports can get equipment they require.
It comes after a Plymouth mother, whose son has cerebral palsy, said she was concerned city stores refused to accept a £500 card from charity Family Fund.
Maria Horton said the card was to buy an iPad to help her son's school work.
Administrators Deloitte said they were looking for an "appropriate solution".
Cards reviewed
After the card was not accepted for the purchase of an iPad for her four-year-old son Sam, mother-of-two Mrs Horton, 32, said: "I'm not the only one who has lost out.
"They have the money but they are not willing to provide the goods to the children who need them."
At the weekend, Deloitte said customer orders would be fulfilled "wherever possible", but the use of gift cards and vouchers had been temporarily suspended.
It added it was "reviewing this position urgently".
Speaking to the BBC on Monday, Deloitte said: "Once made aware that the charity Family Fund uses Comet vouchers to support its charitable work with families, the administrators contacted the charity by email asking for a meeting with them to find an appropriate solution."
It added that its administration team was following up on this "with a view to arranging a meeting at the earliest opportunity".
Family Fund said it was in discussions with the administrators and Comet "to find the best outcome for families".
It said: "We appreciate this is a very distressing time and are working hard to confirm the way forward as soon as possible."
Comet's demise is one of the biggest High Street casualties of recent years. More than 6,600 jobs are at risk.