Bantham rip current warning to surfers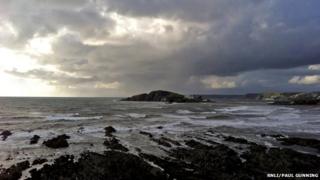 Beach lifeguards in south Devon have warned surfers about a rip current that is taking people onto a rocky reef.
The rip is used by surfers at Bantham to speed their progress out of the white-water near the beach.
But recent storms mean that instead of turning right into open water towards Burgh Island, it has switched to the left.
The warning came after a kayaker and a surfer were rescued on two consecutive days.
Kayaker capsize
RNLI supervisor Paul Gunning said: "This week in the stormy conditions the rip has moved out and left towards Thurlestone into a rocky submerged reef.
"It's also very strong.
"I would advise people to be extremely cautious when entering the water and if they do get caught, to stay with their board if they have one for added buoyancy and to raise their hand to attract attention.
"Always make sure there is someone watching out for you on the shore as well."
On Friday a kayaker capsized in the rip current and was washed onto the rocks before he was rescued.
On Thursday lifeguards at Bantham rescued a surfer who had got caught in the rip and was pulled more than half a mile out to sea.
RNLI lifeguards at Bantham will be on duty this weekend but the season then ends with no cover until Easter next year.