Submariners assist Indian Ocean turtle researchers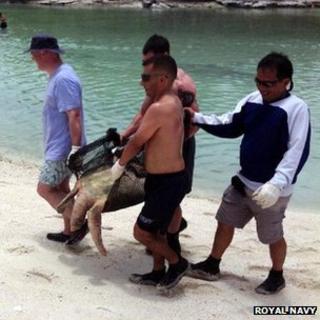 Sailors from a Plymouth-based submarine have helped marine experts studying turtles on an Indian Ocean atoll.
The crew members of nuclear-powered HMS Trenchant were visiting Diego Garcia in the British Indian Ocean Territory for a six-day break during their current deployment, the Royal Navy said.
They helped researchers from Swansea University studying the behaviour and population of turtles.
They took part in expeditions hunting for animals so they could be tagged.
By day, the sailors joined in expeditions with researchers Professor Graeme Hays and Nicole Esteban to find and tag indigenous hawksbill turtles.
At night, they helped tag migratory green turtles which return to the island every few years to lay their eggs.
The animals found ranged in shell length from 39in to 45in (101cm to 115cm), weighing up to 350lbs (158kg ).
It is hoped the data-logging transmitters fitted to the turtles will send back data revealing their patterns of behaviour.
The atoll is about 2,270 miles (3,650km) east of Africa and 1,110 miles (1,790km) south of India.