Erosion exposes rubbish at Leas Foot beach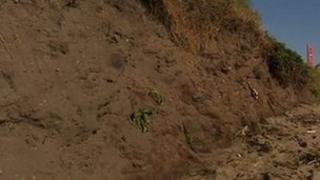 Rubbish thought to date back to the 1960s is coming out of a former landfill site on to a beach on the south Devon coast.
Plastic bags and other items of waste have been exposed beside Leas Foot beach, Thurlestone, because of sandbanks and cliffs being eroded.
Campaigners said the site needed to be cleaned up to protect wildlife and the area from pollution and contamination.
South Hams District Council said it would monitor the area.
'Continuous plastic line'
The discovery of the rubbish is similar to a situation on the county's north coast.
High tides recently exposed layers of rubbish - including plastic bags, carpets and textiles - which were dumped at an old tip dating back to the 1940s in Northam Burrows.
Coastal erosion exposed the waste.
Kirsteen Atkinson Annear, who has been involved in previous beach clean-ups, said she believed similar erosion had exposed the rubbish at Leas Foot.
She said: "You can see it's coming out of the cliffs.
"It's a continuous line of plastics which is coming out in larger amounts, which can endanger wildlife.
Dominic Ferris, of campaign group Surfers Against Sewage, said any rubbish getting on to the beach presented a danger of "ingestion and entanglement" to wildlife.
'Looks horrible'
He said: "Birds can get tangled up in it and turtles can eat plastic bags thinking they're jellyfish.
"But it's not just that. It looks horrible and decreases our pride in our coastlines."
Devon County Council, South Hams District Council and the Environment Agency have been contacted by the BBC. None of the organisations said they would take on responsibility for any large-scale clean-up or programme to prevent erosion.
However, South Hams Council said it would closely monitor the situation and remove any small amounts of rubbish.