Devon winter road preparation work under way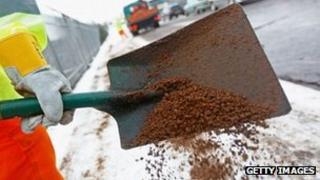 Preparations are under way in Devon to deal with any potential road and transport problems caused by severe winter weather, highways bosses say.
Devon County Council said it had about 25,000 tonnes of salt in stock.
More than 3,000 grit bins were being checked and re-filled, it added.
It added a network of 265 snow wardens from towns and villages across the county were ready to volunteer to keep vehicles moving across 8,000 miles (12,900km) of roads.