Royal Cornwall Hospital pays £100k for ambulance delays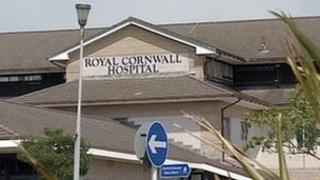 A hospital trust in Cornwall has had to pay more than £100,000 in penalties for keeping ambulances waiting this year.
The Royal Cornwall Hospitals Trust (RCHT) is charged £100 every time an ambulance is held for more than 30 minutes during a hospital handover.
A report for the trust's board said there had so far been 1,018 recorded delays in 2012.
The RCHT said: "Improving ambulance turn-around times continues to be a priority for us."
Hospitals are contracted to get ambulances back on the road within 30 minutes of their arrival with patients. They are subject to penalty payments if they do not.
The report showed that 202 hospital change-overs were delayed by more than 30 minutes in May alone and 137 in September.
Patient 'concern'
It said: "Ambulance handover performance in September worsened again, reflecting the challenging month in terms of overall patient flow and high volumes of non-elective attendances."
Marna Blundy, from the West Cornwall Healthwatch watchdog, said: "My concern, of course, is for the patient and the staff.
"You don't normally get taken to hospital by ambulance unless you're really poorly and to have any delay in your treatment and any delay in being admitted into hospital is really not on.
"I urge the trust to look again at how they can improve getting patients through the system so that patients aren't kept waiting."
In a statement, RCHT said it was "working closely" with the South Western Ambulance Service NHS Trust (SWAST) to "ensure patients are able to receive the right level of care in the most appropriate setting".
It added: "At no time are patients left waiting in ambulances outside of our emergency department."
SWAST said the charge was "not a fine" but to cover the cost of "replacement resources".
It said: "The priority for both services is the provision of the highest standards of patient care and several measures are in place to address the issues associated with these delays."