Northam Burrows coastal erosion exposes 1940s rubbish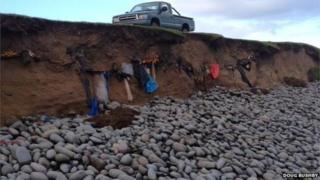 Engineers are to trying and work out how to stop rubbish from an old landfill site on the north Devon coast, being washed into the sea.
High tides have recently exposed layers of the rubbish including plastic bags, carpets and textiles which were dumped at an old tip in Northam Burrows.
The tip - dating back to the 1940s - was capped in 1995, but coastal erosion is now exposing the waste.
Torridge District Council said they are "hopeful the problem can be solved".
It claimed one proposal would be to "add boulders to the sea edge to absorb the energy of the waves, reducing erosion of the dunes".
Torridge District Council, which is responsible for the site, Devon County Council and the Environment Agency have inspected the site and removed any items of rubbish that have been exposed.
In a statement, the county council said: "A comprehensive study recently undertaken at the site found that the materials in the site were entirely in line with what might be expected from an old domestic tip.
"There was nothing present within the site that would give cause for concern, given its open location.