St Martin's Primary offers parents school cookery lessons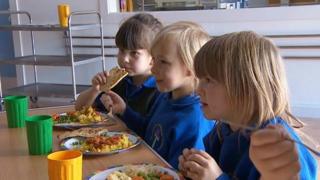 A new school in Devon is offering cookery lessons for parents, to help improve children's eating habits.
St Martin's Primary School in the new town of Cranbrook, where 3,000 homes are planned, opened in September.
The £3.6m primary is also encouraging parents to come into the school's kitchen to watch as the chef prepares the daily meals.
About 40% of the food the school uses for its dinners is sourced locally in the South West.
The children have described the dinners as "lovely and tasty" and Simon Hodgson, the chef and kitchen manager, is hoping to encourage more of pupils to have a hot healthy meal instead of a packed lunch.
"We can invite the parents into the kitchen while we're preparing the food during the day to give them an idea of what goes into the meals," he said.
"The second opportunity is we've started doing cookery classes for those parents who're a little bit nervous about being in the kitchen.
Head teacher Tania Beard said eating healthily would also benefit the children's education.
"What you feed children is really important to how they're going to learn," she said.
"If they have a good meal at midday, they're going to be able to learn much more effectively throughout the afternoon."