Exeter solicitors' office wall demolished by driver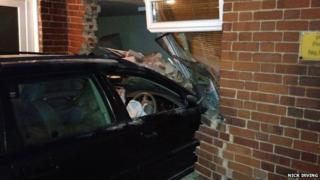 A partner in a law firm which was badly damaged when a motorist crashed into it has said it was lucky nobody was seriously hurt.
The car ploughed into St James Solicitors last week at 19:00 BST when staff had finished work for the day.
Jeremy Wickham said the 77-year-old driver's "car ended up halfway into our office."
"It was very lucky that the office was closed when the accident happened," he added
"Behind the wall where it smashed into was a desk used by one of our lawyers and also a large photocopier which has been wrecked," he said.
The driver was shocked but unhurt.
A firefighter from Devon and Somerset Fire and Rescue Service said: "The air bags went off which helped save the driver from serious injury.
"He didn't have far to go to find a lawyer to sort out the insurance claim."
Repair work on the building has started.