Appeal over Buckfastleigh quarry ash-recycling rejection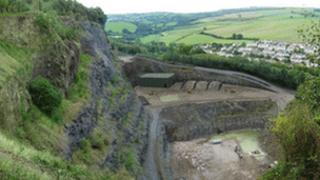 A company refused permission to recycle ash in a Devon quarry has lodged an appeal against the decision, it says.
MVV Umvelt wants to recycle so-called bottom ash in Whitecleave Quarry, using an incinerator being built in Plymouth.
Devon County Council's development management committee rejected the plans by six votes to five, in April.
MVV said it considered its options and it was convinced the quarry was the best site available for such work. Critics have condemned the appeal.
MVV wants to move 56,000 tonnes of ash from Plymouth, to the quarry near Buckfastleigh each year, to be recycled into construction material.
In its plans, ash would be transported from the approved Devonport North Yard incinerator and then stored outdoors at the quarry before being processed and recycled.
'Disgraceful snub'
Critics have raised concerns about the number of vehicles travelling to the site, and whether the ash would be potentially hazardous.
MVV said the materials would be inert and non-toxic.
The Buckfastleigh Community Forum said it had "pledged to fight against the appeal".
Forum co-chairwoman Julia Wilton said the local response to the appeal was "mainly anger".
She said: "We campaigned against it in a dignified and legal manner and it was thrown out by the democratic process.
"For MVV to come back and launch an appeal is a disgraceful snub to the wishes of the local community and shows utter contempt for the democratic process."
MVV managing director Paul Carey said the company had lodged the appeal after taking a "long look at our proposals".
He said: "We've taken a look again at alternative sites to make sure we have properly considered all of the options.
"Having done that, we've come to the conclusion that the Buckfastleigh site remains the best available."