Tavistock woman evicted over anti-social behaviour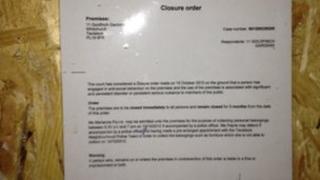 A woman has been evicted from her Devon home after her "persistent and significant" anti-social behaviour.
The Tavistock social housing property has been boarded up after Marianne Payne was barred from the house for three months, by Plymouth magistrates.
West Devon Homes said they took the court action against Payne, 41, of Goldfish Crescent, as a "final resort".
Payne alleged she was the victim of a witch-hunt after creating a "climate of fear", the court heard.
Payne denied the allegations made by neighbours, who reported incidents of loud music, computer games being playing all hours of the day and night, rows, foul language and suspected drug dealing at her house.
'Hell hole'
One resident said the estate had become a "hell hole" because of the activities.
In mitigation, Payne told the court they were prejudiced against her because she had mental health problems and that her brother was gay.
Her lawyer also said most of the problems were caused by a former partner.
However, the judge granted the council a closure order, and banned Payne from the property for three months, which could be extended.
West Devon Homes said it had "worked closely" with Payne over a number of years to try and support her tenancy, offering advice and assistance.
"Unfortunately, that advice and assistance has not been accepted," they said.
"We have been inundated with complaints from other residents who are no longer able to tolerate the persistent anti social behaviour."