Paignton Zoo's elephant's sight saved by eye operation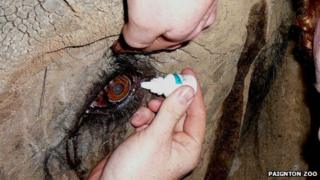 An eye operation has saved the sight of an African elephant at Paignton Zoo in Devon, the organisation has said.
In 2011, Duchess had her right eye removed because of glaucoma.
Vets decided to operate on the left eye after her sight was limited because of cataracts.
An eye expert has deemed the operation a success and said her vision is "significantly better than prior to surgery". The 42-year-old four-tonne animal is the only elephant at the zoo.
Senior keeper Jim Dicks said: "I am absolutely over the moon. It couldn't have gone any better."
Consultant ophthalmologist Jim Carter said: "She is doing very well, with no active inflammation and with vision already significantly better than prior to surgery.
"She is on a reducing dose of medication. I'm very pleased with her overall progress."
Matthew Webb, senior head keeper of mammals, said: "She is in very high spirits and is enjoying being able to reach for naturally growing food around her enclosure, which previously she could not."