Plymouth NHS acupuncture service cut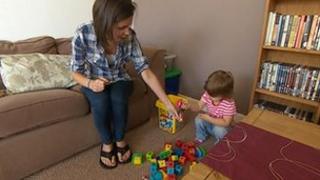 The NHS in Plymouth is to stop offering acupuncture to pregnant women, the BBC has learned.
The NHS has decided to withdraw the service - set up 25 years ago - due to a lack of funding.
Health chiefs have also questioned the effectiveness of acupuncture as a treatment for severe morning sickness.
But patients who have been treated with acupuncture say it is a vital service and should remain available for pregnant women.
One of those, Sarah Bridge, from Ivybridge, said: "I was really sick with my first pregnancy. When I fell pregnant again the sickness kicked in much quicker.
"I spoke to my midwife who referred me to the acupuncture department at Derriford. It was so worth the wait.
"The clinic was on a Friday and for the first time that weekend I didn't feel as ill as I had been feeling. It was the only thing that worked."
'Just appalled'
Kerry Dungay, from Plymouth used the acupuncture service after suffering from hyperemesis gravidarum, a severe form of morning sickness.
She said: "It is a debilitating form of pregnancy sickness. Eventually it can end up with you in hospital on a drip.
"The thing with hyperemesis, if you catch it early on you can treat it proactively and that's what the acupuncture service can do.
"It can stop it from getting to the point where you require hospitalisation."
Sarah Budd, a retired midwife acupuncturist, said: "I am absolutely devastated that this service is being closed down.
"It has been running for 24 years in Plymouth. Over 8,000 women have been treated successfully. I am just appalled it's being stopped."
In a statement, Sue Stock, head of midwifery and associate director of nursing for Plymouth Hospitals NHS Trust, said: "It is essential that we concentrate our resources on delivering care which benefits all of the families who access their care from Plymouth Hospitals NHS Trust.
"Less than 1% of women utilised the acupuncture clinic.
"We are very grateful to the midwives who have provided this service and they remain fully employed by the trust in their primary role of midwifery."