Devon farmers 'despair' over rain and poor harvest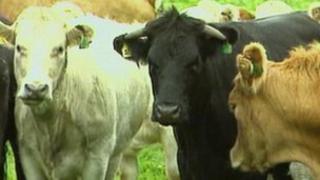 A bad summer and poor harvest has left the farming community in Devon in a "desperate" state, according to a rural church worker.
Andy Gerrard, a West Devon Methodist, said for many farmers the rain had gone from a casual joke to a serious threat to their livelihoods.
He works for the rural community, talking to farmers at farmers' markets.
"Farmers are very resilient - they're used to working with the weather - but not like this," Mr Gerrard said.
"We've got to the point where it's stopped being a casual joke about the weather to genuine desperation and 'is it ever going to stop'," Mr Gerrard told BBC News.
"For some of them, the financial problems are there already and they're only going to get worse."
'Last straw'
The National Farmers' Union said 2012 has been one of the hardest for farmers, with arable farmers reporting their poorest wheat yield in 30 years.
Mr Gerrard said livestock farmers had been almost as badly hit as arable farmers.
They have not been able to produce enough high quality silage to feed the animals through the winter, resulting in a big rise in winter-feed costs.
He said the situation had been exacerbated by many farmers having to keep their cattle housed for so long because of the weather.
"Some are looking at what is basically an 18-month winter," Mr Gerrard said.
"Most farmers will cope and they'll still be in business next year and the year after, but as with many walks of life, some will have faced so much adversity and for them it will be the last straw."