County Council invests £3m in 'critical' flood scheme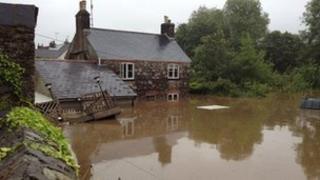 Devon County Council is set to invest £3m towards a "critical" new flood defence scheme for Exeter.
It is claimed the scheme will provide "increased protection for 3,000 homes in the city and 1,000 businesses".
The plans include upgrading existing defences, building new flood banks and walls as well as improving flood warnings and public awareness.
Senior councillors are trying to bring forward the projected start of the scheme from January 2017.
Cabinet member Stuart Hughes, chairman of the Devon flood risk management partnership, said: "The existing flood defences in Exeter have been severely tested recently by some of the exceptional rainfall we've had and the extreme flows in the River Exe.
"This is a critical scheme and it's important we get on with it as quickly as possible."
Mr Hughes said the city council had "already pledged £3 million towards the scheme".