Pub conman David Brown caught by landlord Jon Hutchings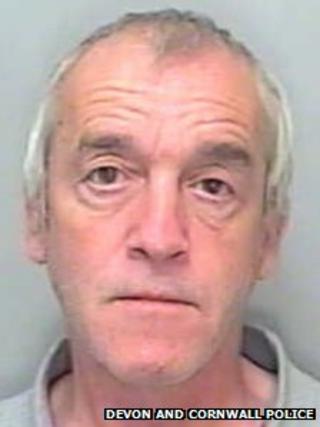 A Devon landlord has spoken of his pride in helping to catch a conman.
Jon Hutchings, who runs the White Hart Hotel in Holsworthy, was among a host of landlords in the UK conned by David Michael Brown with stolen cheques.
Mr Hutchings tracked Brown down to a pub in a nearby town in Devon and contacted police.
Brown, 56, of no fixed address, pleaded guilty in June to theft and fraud and was jailed for eight months at Exeter Crown Court last week.
Devon and Cornwall Police said without Mr Hutchings' tenacity, Brown - who was wanted by several police forces - might still be on the run.
Brown had checked into the White Hart Hotel in May, using a cheque to pay his deposit.
He opened a tab in the bar, where he "chatted to everyone and appeared to be a really nice man", according to barman David Goodman
However shortly afterwards, Mr Hutchings received a phone call from a nearby pub asking if he had a new guest who was paying by cheque.
Mr Hutchings contacted the true owner of the cheque and learned his chequebook had been stolen several weeks earlier.
When he went to confront Brown, the conman had gone, but calls to local taxi firms revealed he had been dropped off in the town of Torrington.
Mr Hutchings and his barman finally tracked Brown to the Black Horse pub.
"When we walked in, he was sitting there tucking into a 16oz T-bone steak," Mr Hutchings said.
Police said after Brown's arrest, the force had been "inundated" with calls from other police forces where similar offences had been committed.
Brown pleaded guilty to four counts of theft, one of fraud and asked for 20 others to be taken into consideration.
"I suppose it's quite nice to think we got him in the end, because this man was preying of small businesses that really couldn't afford it," Mr Hutchings said.
"I'm a bit disappointed he only got eight months - but I suppose it will keep other landlords safe for a while."