Hemerdon homeowners' fears over tungsten and tin mine delay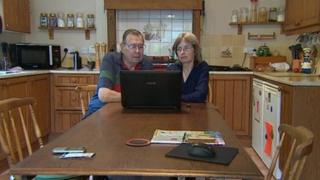 People living near an old tungsten mine on the edge of Dartmoor have said plans to reopen it have disrupted their lives.
Wolf Minerals hopes to begin mining at Hemerdon in 2014 and once open, it is believed the mine will be the fourth largest tungsten resource in the world.
For the past five years, the Australian-based company has been planning to buy 17 homes in the nearby hamlet of Drakelands, but so far no purchases have been completed.
"We didn't know we'd be put under the cosh for this length of time," resident Lynn Fellows said.
The 62-year-old and her husband Den, 80, have an outline agreement to sell their home for the full market price.
'Living in limbo'
The couple said the uncertainty over whether or not the sale would happen has put their lives on hold.
"For the first two or three years we took it in our stride really... but the last three or four years have been really bad for us," she said.
Wolf Minerals has not yet exercised its rights to complete the house purchases as it is still trying to raise the £110m needed to open the mine.
The company said it had sympathy with the residents' position but it was confident the project would continue as planned.
"We're trying to move it forward as quickly as possible, but it's not easy and straightforward to get a mine opened and to raise all the necessary funding," operations manager Jeff Harrison said.
Sally Hingston, another resident who has an agreement to sell, said she was living in limbo because of "all the waiting and not knowing".
"We want to make improvements and do stuff to the house, but we've got to practically live in it as it is because if we make alterations and spend out money, we're never going to get it back," she said.
Tungsten, which is used in metal-working, construction and in the manufacture of electrical equipment and light bulbs, was discovered at Hemerdon in 1867.
Mining was carried out between 1919 and 1920 and again from 1934 to 1944, when production ceased.
The booming economies of China and India have increased worldwide demand and Wolf Minerals hopes when the mine is reopened it could employ more than 200 people and produce about 3,000 tonnes of tungsten and tin a year.