Dartmoor hill ponies numbers 'drop to 850'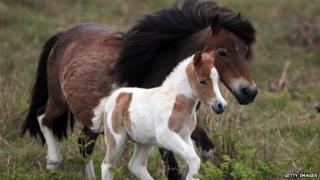 The number of Dartmoor hill ponies has plummeted from about 30,000 in the 1950s to about 850 now, according to conservationists.
Ponies are sold every year as pets and for grazing.
Friends of the Dartmoor Hill Pony (FDLP) said the recession, high hay prices and tougher horse transport regulation were putting off buyers.
As a result, farmers were keeping far fewer mares than stallions and numbers on the moor were dropping.
Charlotte Faulkner of FDLP said numbers had dropped from about 3,000 16 years ago to 1,500 five years ago.
"Hay prices are astronomical and people just don't have the money to invest in what we're producing," she said.
'Sorry sight'
Each year the moor is cleared of ponies in the so-called 'drifts' in which animals are rounded up and some of them sold.
The hardiest are returned to the moor to breed and the others are sent to market, including at Tavistock.
Those that cannot be sold and cannot be returned to the open moor because of the potential for in-breeding are slaughtered.
Ms Faulkner of FDLP said: "It is quite noticeable how the numbers have fallen this year.
"The pound on Merrivale was about half full, a sorry sight really.
"I am the eternal optimist that we can find enough people to take on these wonderful ponies.
"But it's running through our fingers like sand and I don't know how to stop it."
Hardy breeders
A number of schemes to support the ponies includes a bid by Duchy of Cornwall and the Dartmoor Pony Society to improve the bloodline of ponies and ensure their suitability to the Dartmoor environment.
Dartmoor National Park Authority also discourages people from feeding ponies, and asks them to take litter home and to keep to the 40mph limit on moorland roads.
Pony owners are also being encouraged to take part in a scheme which started in early 2003 to expand the use of ponies in conservation grazing.
The Dartmoor Commoners' Council introduced a stallion support scheme in 1999 to ensure that ponies not hardy enough to survive on the moor are not bred.