Dartmouth yacht dragged by storm force wind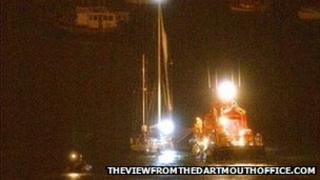 A yachtsman has been rescued as his boat was being dragged down river by storm force winds in Dartmouth Harbour.
He called coastguards for help from the 46ft (14m) yacht Sea Brigand, which was anchored off Dart Haven Marina but was being pulled by storm force winds of up to 50 knots (57mph).
The foresail, or jib, had been unfurled by the wind and was pulling the boat.
Torbay lifeboat went out just after midnight to tow the yacht to a visitors' pontoon.
The yachtsman, who had anchored in the Dart after sailing single-handed from the Republic of Ireland, was helped to control the sail by the crew of the Dart inshore lifeboat.