Exeter Airport sale: Where did all the money go?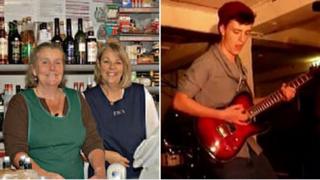 How is a one-off windfall of £48m spent?
Devon County Council answered that question five years ago when it sold Exeter International Airport to Regional and City Airports Limited for £60m.
After using £12m to pay off bills, the council has handed out the remaining money to more than 700 organisations which requested funding. Amounts ranged from £25 to multimillion-pound investments.
The last of that money has just been spent. So where did it all go?
Council leader John Hart said: "We decided it would be better to disperse it around the county so everybody could benefit.
"It would be over and above what would normally be grant-aid available.
"We'll never have the opportunity to do this again, realistically. It was a one-off windfall and we have endeavoured to make sure an awful lot of organisations have benefited from it."
Having owned the airport since the end of World War II, but unable to spend money expanding it, the council wanted to get the most out of it while it could.
Mr Hart said: "The money was at least 50% match-funded, so nearly £100m went into the county on things that people wanted at a time when we were at the height of a recession.
"And what people forget is we've kept the building companies busy as well."
The largest beneficiary of the funds was Haven Banks Outdoor Education Centre which received £5.6m.
The new centre, at the base of Exeter canal, will provide courses in sailing, canoeing, archery and raft-building and replace the old centre on the Quay which is now 25 years old.
Mr Hart said: "The Haven Banks project is going to be a regional if not national leader in watersports.
"The demand for watersports has increased immeasurably over the last few years, so we decided that we would take this one on."
The grants varied enormously - from Cullompton Community College getting £25 for its Junior World Hovercraft Championships, to Averton Gifford Pre-School which got £63,600 for solar panels and a covered outdoor play area.
Pulse, a music project in Teignmouth, was given £600 to refurbish its community space.
Having gone into liquidation, another music organisation, The Cave, took over and continues to benefit from the refurbished area, which includes a kitchen.
Manager Robin Brown said: "We're a community rehearsal space for music and I run open nights for bands and try and encourage people in the community to play music and make some noise.
"It's hugely popular. I wish I could double up every night of the week
"In the daytime it's getting accessed by those who are unemployed or retired."
One sector to benefit from the funds were voluntary organisations which Mr Hart said "we don't normally support" because "we don't physically have the money".
East Budleigh Community Shop, operated by 45 volunteers, accepted £12,500 to help get the shop, run by local people for local people, up and running.
But the shop has done so well it is about to move from a temporary building to a permanent premises double the size of the current one.
Treasurer Paul Smith said: "If we hadn't got the money it would have taken a lot longer to get started."
Blackdown Healthy Living Centre received £265,000 for a new building. It is used by many different groups and provides a day care centre largely run by volunteers.
Chairman Paul Steed said: "It wouldn't have happened without the money.
"We got £265,000 from Exeter Airport and £100,000 was put in from the previous day care centre which was collected in 15 years - you do the sums."
Even though the pot is now empty, the results of the cash will continue to be seen.
Mr Hart said: "A lot of the money that's been allocated still has not yet been spent.
"Schemes take longer than you think to get going, so we still have a number of small and large schemes that have got to come into fruition.
"But nobody would ever get that kind of money again."