Cystic fibrosis drug Kalydeco: Mother urges immediate treatment for patients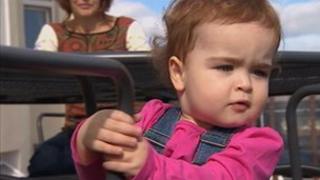 A mother from Devon is spearheading a campaign to make a cystic fibrosis drug available on the NHS immediately.
Jess Nickless, from Dawlish, whose daughter Ellie has the condition, has asked the government to make Kalydeco available to those who would benefit.
The drug has been approved by the European Medicines Agency.
The Department of Health (DoH) said individual regions would eventually decide whether to prescribe the drug or not.
A spokesman said: "Subject to the manufacturer making the drug available in the UK, it can be prescribed by clinicians based on their patients' individual needs.
"It is also currently being considered by local health experts who make decisions at a regional level about services for people with rare conditions."
Kalydeco, which is available in the US and Italy, is used to treat the rare G551D mutation of cystic fibrosis and is listed at £182,000 per patient per year.
'It's a travesty'
Ms Nickless, whose 15-month old daughter has G551D cystic fibrosis, said she wanted the drug to be made available to patients of all ages, despite the European Medicines Agency advising it only be given to people over six years old.
Ms Nickless said: "Ellie already does have lung damage at her very young age: if we wait until she's six it can only go to a greater extent and we don't want that to happen."
As part of the campaign, Ms Nickless started an e-petition which has attracted more than 11,000 signatures.
She has also written to Health Secretary Jeremy Hunt, enclosing information and personal stories about the children who need the drug and the difficulties they face.
Denise Murphy, whose daughter Katie also has the G551D mutation, said: "This drug's been available in America for the last year and it's now available in Germany and in Italy.
"I think it's a travesty that this country is behind all these other nations."
The DoH added that funding for Kalydeco would be made by local NHS organisations.
Cystic fibrosis is a serious genetic disorder which damages the lungs and digestive system.