Twitter 'ban' for Topsham police support officer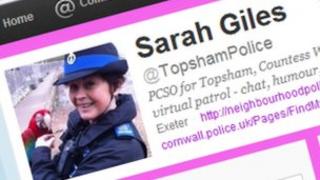 A police community support officer in Exeter says her force has banned her from Twitter over her posts about students.
Exeter-based PCSO Sarah Giles, tweeting as @TopshamPolice, posted messages about student "mayhem" in the area.
Devon and Cornwall Police said she was not banned from posting, but had offered her "training".
But PCSO Giles tweeted: "I was told to close the account and stop tweeting. It upset me very much."
PCSO Giles has more than 1,000 online followers for her updates about everyday life on the beat.
In reference to students, recent tweets included the comments: "Disgruntled residents in St James PCSO Harvey keeping them informed ref work being done on the patch to police the students".
On 18 September, she said: "Large group of students already spotted heading into town to tour the city's watering holes".
On 19 September she said: "Off to work in an hour - more student mayhem".
Two days later, she messaged: "Thank you all for following and banter over the last year - I have been instructed to cease tweeting. My apologies."
'Free The Topsham 1'
Gareth Oughton, from the University of Exeter Students' Guild, said police were contacted to express concerns about what he called "the reinforcement of negative stereotypes" in both the tone and content of the tweets.
He added that the guild and police worked hard to promote positive relationships and the guild felt the tweets might not present that relationship in such a good light.
Assistant Chief Constable Chris Boarland said: "There are some issues that we're looking into in terms of her use of social media, which she is well aware of, and we'll resolve it as quickly as possible."
A Twitter campaign supporting the PCSO - #FreeTheTopsham1 - has been started by Exeter Labour councillor Paul Bull.
He said he it was "a bit tongue-in-cheek, but it seems to have taken off".
"People have to be careful what they say, but most of her tweets were just her reporting what she sees," he said.