Exeter student Zara Malone 'died of alcohol abuse'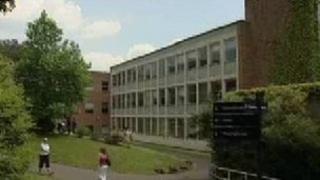 A university student died as a result of alcohol abuse in her student flat in Devon, an inquest has found.
Zara Malone, 22, of Old Tiverton Road, was found in her room by her housemate in February. Two empty bottles of vodka were also found.
The inquest heard that Miss Malone was a "habitual heavy drinker" and often turned down socialising to drink on her own.
Coroner Elizabeth Earland recorded a verdict of death by alcohol abuse.
'Alcohol problem'
The inquest heard that the University of Exeter student, who was studying English and classical literature, was found on 7 February by her housemate Francesca Parker.
Miss Parker, who had lived with Miss Malone for two years, said she had spoken to her friend earlier that day about the amount she was drinking after she had had to put her in the recovery position the previous night.
In a statement read in court, Miss Parker, said: "I thought she was drinking too much. I quite often saw bottles in her room.
"She didn't go out and socialise, and I would often find her in a state in her bedroom. I tried to get her to admit she had an alcohol problem."
'Vibrant' person
The inquest also heard that Ms Malone had anxiety problems as well as anorexia and insomnia.
Dr Earland said: "Miss Malone was a habitual heavy drinker and had ingested a large quantity of vodka in the hours before her demise.
"I'm satisfied that her death was a consequence of alcohol abuse."
Miss Malone's parents, Roger and Liz said their daughter, who had attended Plymouth College, was a "vibrant, talented and caring person - a pivotal member of our family".