Catalytic converter thefts rise in Devon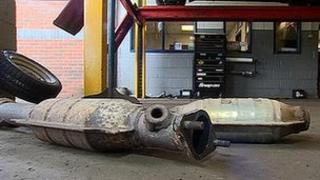 Car dealers in parts of Devon are reporting a spate of thefts of valuable catalytic converters.
More than 100 thefts from cars on forecourts have been reported across the county since April, half from Exeter and east and mid Devon.
Quay Auto Centre in Kingsbridge lost six to thieves on 28 September.
Catalytic converters, which limit toxic emissions from vehicles, contain valuable metals, including platinum, palladium and rhodium.
Catalytic converters can be worth worth several hundreds pounds as scrap.
Thieves cut the catalytic converter from the exhaust pipe of a parked car, although there are cage devices which can be fitted to deter thieves.