Devon and Cornwall Police forced retirement scrapped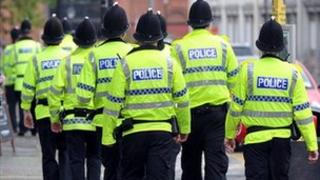 Police in Devon and Cornwall will not be forced to retire after 30 years' service, the force has announced.
Officers were told in 2010 that to save money the force would be using police regulation A19 to force retirement.
The police authority said it had agreed with Chief Constable Shaun Sawyer to suspend A19 "with immediate effect" after protests from officers.
But it warned the policy could be reinstated by the incoming police and crime commissioner.
Cuts 'inevitable'
Mike Bull, chair of Devon and Cornwall Police Authority said: "I understand this is an emotive issue for officers and we were disappointed that we had to invoke regulation A19.
"In an ideal world we would not have wanted to compulsorily retire any officer.
"The impact of the government grant cuts made reductions inevitable and led to A19 being invoked."
The force plans to cut 620 officers by 2015 as part of plans to save £51m.
However, in 2010-11 total savings were £7m more than the original £5m target, according to the police authority's annual report..
More than 100 officers have been forced to retire under A19 since 2010, according to the force.
Mr Bull said the new police and crime commissioner, who will oversee the running of the force from November, may be forced by budget restrictions in the future to reintroduce enforced retirement.
"However officers can be assured that any future decision to reinstate A19 will be made in full consultation with staff associations," he said.
Nigel Rabbitts, chair of Devon and Cornwall Police Federation, which represents officers, said some of those forced to retire "may want to seek some redress".
He said: "We welcome the decision at a time when all the news has been bad for the police service.
"Our concerns are with those officers that have been forced to retire and make life-changing plans."