Ryan King murder: Raymond Dupree guilty of wine glass killing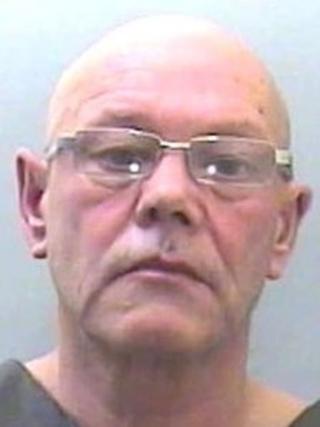 A man who murdered his great-nephew with a broken wine glass at a family party has been jailed for life.
Raymond Dupree, 68, was told he will serve at least 13 years for stabbing 20-year-old Ryan King in the neck at Snurridge Manor House in Devon.
Dupree, who had denied murder, told Exeter Crown Court he had only intended to punch Mr King in self-defence.
Ex-amateur boxer Dupree, of Bishop's Nympton, attacked Mr King in the early hours of 21 August, last year.
The pair fought as a party on the estate in South Molton, attended by about 30 people celebrating the 40th birthday of Mr King's pregnant mother, was winding down.
The court heard Mr King was calmly sticking up for a number of teenagers after Dupree complained music they were playing was too loud and they were not "showing enough respect".
'I've done him'
Prosecutors said Dupree had "grossly over-reacted to a trivial dispute" and Mr King's death was a product of his "bad temper and pride".
Dupree severed Mr King's jugular vein when he punched him in the neck with a right hook while holding the glass.
He told the court he had no memory of holding the glass as he punched the victim.
However, as Mr King fell to the floor clutching his wound, Dupree showed no remorse, saying: "I've done him," before leaving, the court heard.
Mr King, from London, was taken to hospital but later died from his injuries.
Dupree said he reacted when Mr King challenged him, talking in a "sarcastic manner", after he asked some children to go to bed.
Initially, he told police the incident was an accident and a "family thing" that had got out of hand.
The jury of eight men and four women took less than two hours to reach their verdict.
Adam Vaitilingam QC, defending, did not offer any personal mitigation on behalf of Dupree.
Jailing Dupree, the judge, Mr Justice Roderick Evans, told him: "I accept by fixing this period of 13 years, you may not be released and you will die in custody."
'Needless attack'
In victim impact statements, the court heard that Mr King's mother, Lisa Wilson, had endured "unbearable grief" and the death had caused the wider family "devastation".
Det Insp Dave Thorne, of Devon and Cornwall Police, said: "It was a needless attack which was unprovoked and undeserved with fatal consequences.
"The trauma and loss that family and friends have experienced is beyond comprehension and although a conviction has been achieved, people will live with this loss for the rest of their lives."
After the verdict, the court also heard that Dupree had a history of convictions dating back to the 1960s.
They included offences against the person, public order and possession of firearms and offensive weapons.