Cranbrook new town 'not increasing flooding risks'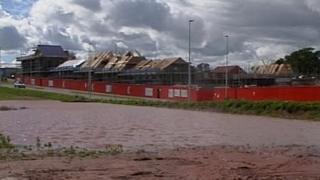 Claims that new developments in east Devon could increase flooding risks in the area have been denied by a district council and the Environment Agency.
When completed, the new town of Cranbrook, near Exeter, will include about 3,000 new homes, plus a science park and a business estate.
Critics said the work was contributing to an increasing regularity of floods.
East Devon District Council and the agency said flooding issues had been taken into account.
'Beyond doubt'
Heavy rain caused flooding in the Exeter and Tiverton areas on Monday, affecting several properties.
Phil Walters, whose family has farmed at Wishford Farm in Broadclyst for 70 years, said the Cranbrook building work had resulted in rivers becoming filled with rainwater more quickly.
He said: "It is beyond doubt, in my mind, that the speed in which the water is coming off these developments and entering the river system is contributing significantly to the flooding levels that we are seeing."
Some local parish councillors also have concerns.
Henry Massey, from Broadclyst Parish Council, said: "The floods we had in 2008, which were very similar, were described as a one-in-1,000-year event.
"And here we are again, four years later, with another one-in-1,000-year event."
East Devon Council said Cranbrook was granted planning permission "only after extensive consultation with the Environment Agency".
It said: "The drainage strategy for these developments is based on the Environment Agency's recommendations and the drainage infrastructure is being provided.
"It must be remembered that an exceptional volume of rain fell on Sunday and Monday, and this would have caused higher than average volumes of water in waterways whether or not development were taking place."
George Arnison, from the Environment Agency, added: "I can fully understand when people see all the construction work that they conclude that this is somehow making it worse, but this is not the case."
The agency also said it was to meet critics to address concerns.
The Met Office has issued a yellow warning of rain for south-west England for Tuesday and Wednesday.