Plymouth man arrested over suspected firearm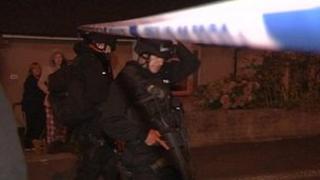 A man has been arrested after police were confronted by a man thought to be armed at a property in Plymouth.
Officers cordoned off St Maurice Road in Plympton where a 49-year-old man was understood to have a "long-barrelled firearm".
Devon and Cornwall Police said they were called shortly before 19:00 BST on Tuesday by the man's mother who said he was "smashing up the house".
Witnesses said objects were thrown out of the house at police, including a TV.
No-one was hurt.
Police said the man was arrested on suspicion of possession of a firearm with intent to endanger life.
Neighbour Alex Guttridge, 20, who was asked by officers to leave his house during the operation, said: "I had just come back from getting some food at 7.30pm when seven police cars turned up.
"I was at the top of the road just about to go into my house when the police started moving us away.
"They put a cordon up and asked us to leave. The next thing I know I heard bangs and shouting."