Steve Maddern salary caused West Exe Technology College 'disrepute'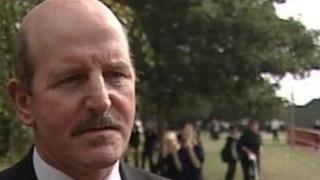 A head teacher brought his school into disrepute and compromised standards, a report has concluded.
Steve Maddern resigned as the executive head of West Exe Technology College in May after it emerged he was being was paid £152,000 per year.
His salary was almost three times the average head's pay and about £10,000 more than the prime minister's.
Devon County Council said there had been an "unhealthy culture" and "weak governance" at the school.
The local education authority (LEA) audit report said there had been "insufficient professional distance" between Mr Maddern and the former chairman of governors Paul Smith.
'Out of kilter'
It also criticised the school's "naive" governors, claiming they failed to challenge the amount of money senior managers at the school were being paid.
The report was ordered by Sue Clarke, the council's head of education, after auditors examined the accounts of the 1,300-student specialist technology school and details of Mr Maddern's salary came to light.
Exeter's Labour MP Ben Bradshaw, who at the time described the head teacher's salary as "way out of kilter", said he welcomed the report, but he believed there was still much to be done to restore the school's reputation.
"The governors still have a big job of work to do to ensure their procedures are open, democratic and transparent," he said.
In a letter to parents, the LEA apologised for "the naivety and lack of challenge which allowed this situation to develop".
It said: "Many of the concerns raised publicly, but not all, have been found to be substantiated such that there have been inappropriate decisions made, weak governance in key areas and a lack of public accountability.
"This has significantly compromised the reputation of the college where otherwise there is a sound educational reputation and confidence from parents."
It said Mr Maddern's misuse of position had established a unacceptable culture which had "compromised professional standards expected of school leaders, trust of the staff and public and brought the reputation of the college into disrepute".
Devon County Council said it had decided to make the audit conclusions public because it concerned the spending of public money by public employees.