Mutton chop win for Plymouth man at facial hair contest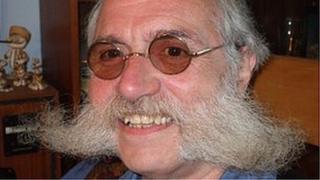 A Plymouth man's whiskers have won him the mutton chop category of a national competition.
Mick Bates was taking part in the first British Beard and Moustache Championship in Brighton.
He has had the facial hair for more than 40 years.
More than 100 men competed in the event, which was organised by the Handlebar Club and the British Beard Club - which are groups for men with facial hair.
Mr Bates said: "No-one else had sideburns or mutton chops as big as these, so it was virtually a walkover."
He said his daily routine of washing and styling the hair takes between 10 and 15 minutes.
"You have to wash and shampoo them [the moustache, side burns and mutton chops], and then blow dry them straight so they don't go frizzy and add a bit of wax to take the loose ends up.
"If I'm going anywhere special I'll go and see my stylist so it stays there all day."
Mr Bates said on the "continental scene" his facial hair would be seen as an imperial moustache because of the amount of wax and spray he uses to keep it in place.
However, under British rules it comes under the category of side burns and mutton chops.
"Moustaches and beards - you either have them and like or you don't, I've just always liked them.
"I told everybody they were the finest in Britain and now I can actually say here's the medal."