Plymouth-bound ferry passengers return after strike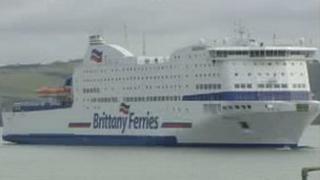 Hundreds of ferry passengers stranded in France after a wildcat strike by crew are on their way back to the UK.
The sailing of Brittany Ferries' Armorique was cancelled on Thursday after the industrial action by its French crew, affecting 670 passengers.
After talks between management and staff, the Armorique left Roscoff for Plymouth at about 17:30 BST.
Directors have agreed to hold further talks with unions next week to discuss terms and conditions.
The initial action was called by crew members who were angry at proposed changes of working terms and conditions put forward by their bosses.
Steve Warner, managing director of UK Brittany Ferries said: "It was very late in the day that we got notification of the 24-hour strike.
"People had been checked in and we were beginning to load the ship so we were left with a very difficult situation.
Passenger frustration
"It's very sad and any inconvenience that has been caused to our passengers is something we're very sorry about."
Mr Warner said the passengers were given the option of waiting for Friday afternoon's sailing or travelling to Normandy and sailing to Portsmouth, with Brittany Ferries covering fuel costs, which many passengers opted for.
The Armorique is the only one of Brittany Ferries seven passenger ships striking.
James Hammond from Plymouth, who has been on holiday in France with his girlfriend and was due to sail on Thursday's ferry, said when it became clear the it would not sail, he managed to find accommodation at a Roscoff hotel.
"I love France, so another day here is no bad thing, but if we don't get on the ferry today things could turn sour," he told BBC News.
"It's my mate's wedding in Shrewsbury tomorrow and if I miss it he'll kill me."