Cornwall Council trials new 'seagull proof' rubbish bag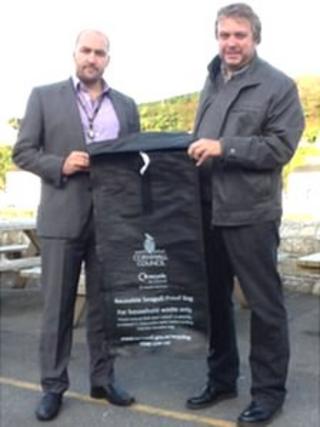 A "seagull proof" rubbish sack is being trialled across Cornwall.
The "tough, durable" woven polypropylene and hessian sacks will hold up to three plastic bin bags.
Cornwall Council said they will be tested to "establish effectiveness" at stopping seagulls attacking waste during a three-month trial.
About 1,500 homeowners in Porthleven, Looe, Newquay, Polperro and St Austell will be included in the pilot which will begin in the next two weeks.
Cornwall Conservative cabinet member for environment and waste management Steve Double said: "The bags will be trialled to see if they work, or whether they can be improved, before we go any further with this, to make sure they are fit for purpose for keeping seagulls out."
If the trial is successful the sacks will be available to town and parish councils across Cornwall at cost where it will be up to them to decide whether to offer them for free or to charge residents.
If town and parish councils do choose to charge residents for the 1.5 metres (5ft) long and 60cm (23ins) wide sack, it will cost about £3.
Independent councillor Andrew Wallis, although in favour of the scheme, said he could not understand why people did not buy a bin which "last for years".
He said: "We can sell bags to the public, but if they are not willing to use them then the problem is still going to be there."