Sarah Jayne trawler sinking: Search ends for fisherman Geoff Ingram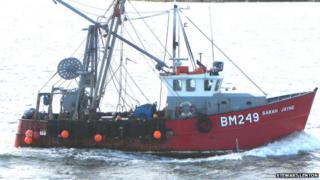 A search has been called off for a fisherman who has been missing since a trawler sank off Devon.
The search for the man, named locally as Geoff Ingram, was begun after the Sarah Jayne, a 15m (49ft) beam trawler, capsized off Berry Head in south Devon on Tuesday morning.
The RNLI said there were no plans to resume the search for Mr Ingram, who was owner and skipper of the vessel.
Two other men on board were rescued from the water and taken to hospital.
'Well-liked fisherman'
The Sarah Jayne worked out of Exmouth, Mr Ingram's home town, but is registered at Brixham and lands its catches there.
A Brixham trawler, the Girl Rona, raised the alarm at 11:24 BST on Tuesday, sparking an air and sea search involving lifeboats, more than 12 local fishing vessels and the Portland Coastguard helicopter.
The Girl Rona rescued two other fishermen who had been on board but were found in the sea.
The pair were transferred to the RFA Wave Knight before being winched on board the helicopter and flown to Torbay Hospital. Their condition is not known.
The Maritime and Coastguard Agency (MCA) said the search was called off just after 14:00 BST on Wednesday.
Two officers from the Marine Accident Investigation Branch (MAIB) are in Brixham to carry out an inquiry into the capsizing.
John Anderson, of Brixham Fishermen's Mission, has been counselling Mr Ingram's family.
He said: "They are struggling. There are young ones involved as well. It's not easy."
Rick Smith, of Brixham Trawler Agents, said: "He [is] a well known, well-liked fisherman, very well respected."
Brixham skipper David Wilson, of the Propitious, donated his catch in aid of the family, and £4,000 has been raised.
Barry Young, Brixham Fish Market's chief auctioneer, said there was an "overwhelming" response at the auction, with buyers paying over the odds to raise money for the family.
He said: "We are a very tightly-knit community. We always do things together and we always have done."
Tributes have also been paid to him at Exmouth's lifeboat station. He served on the town's lifeboat for almost 20 years.