Newton Abbot frying pan murder: Killer Bryan Harris jailed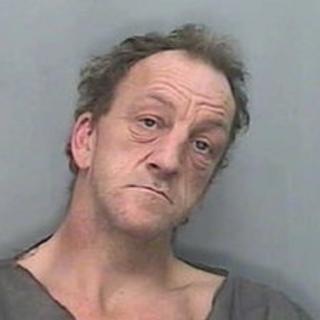 A man who murdered his landlord by battering him with a frying pan has been jailed for life.
Bryan Harris said he attacked Paul Drury after he found him having sex with Harris's girlfriend at their home in Newton Abbot, Devon.
Harris denied murder, but a dented frying pan with his bloody fingerprint was found near Mr Drury's body.
At Exeter Crown Court, Harris, 45, of Valley Path, Newton Abbot, was jailed for a minimum term of 18 years.
Harris and his girlfriend, Dawn Lewis, had been living at 32-year-old Mr Drury's one-bedroomed maisonette in Valley Path for six weeks, sleeping in the lounge, before the murder last November, the court heard.
'Chilling' violence
The former vagrant - who has more than 35 previous offences, many for violence, and is a convicted paedophile - told the jury he attacked Mr Drury after a sudden and unexpected loss of control.
He claimed he had not intended to cause Mr Drury serious injury but punched and kicked him for between 15 and 20 minutes.
He also beat Ms Lewis, leaving her with two black eyes and severe bruising.
The court heard that Harris, who worked at stables at Ideford, had claimed the attack had been carried out by a gang which invaded the house.
But he changed his story after Mr Drury's blood was found on his shoes and trousers.
Jailing Harris, the judge, Mr Justice Evans, said he found Harris's account of finding Mr Drury and Ms Lewis together true, but added that he was sure that Harris "never lost" self control.
He said: "You decided to administer punishment beatings to seek revenge and to teach him a lesson.
"It was clear from your evidence that the determined way in which you used violence was chilling.
"The aggravating features were the sustained nature of the violence and the use of a weapon."
The judge said he believed declarations of remorse by Harris were "wholly unconvincing".
The parents of Mr Drury, from Whimple, near Exeter, praised the police operation and said they were pleased Harris had been taken off the streets so he would no longer pose a danger to the public.