Sarah Jayne trawler sinking: Fisherman missing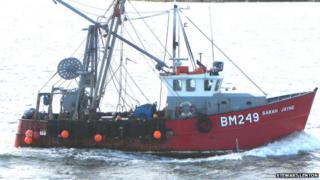 A fisherman is missing after a trawler sank off the Devon coast.
The Sarah Jayne, a 15m (49ft) beam trawler, capsized off Berry Head in South Devon just before 11:30 BST.
The Maritime and Coastguard Agency (MCA) said a Brixham trawler, The Girl Rona, raised the alarm and rescued two people from the boat from the water.
A major air and sea search for the man was begun after the alarm was raised. It was called off for the night at about 20:30 BST.
The MCA said it would decide on Wednesday when the search should resume.
'Tight community'
The two rescued fishermen were transferred to the RFA Wave Knight before being winched on board the Portland Coastguard helicopter and flown to Torbay Hospital.
Their condition is not known.
Brixham Coastguard co-ordinated the search for the third missing crew member.
More than 12 local fishing boats also took part.
The Sarah Jayne works out of Exmouth, but is registered at Brixham and lands its catches there.
Ryan Runacres, 18, said waiting for news was hard for the whole community of Brixham.
"I know the trawler pretty well - it's always down in the harbour and it's horrible not knowing if my friends or family members are on there," he said.
"Living in such a tight community, everybody knows everybody and hearing this news is devastating."