Totnes MP criticises Ark Royal scrapping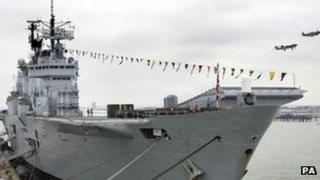 An MP has criticised plans to sell off the Royal Navy's former flagship for scrap when it could have been sunk off Torbay as a money-making diving site.
Aircraft carrier HMS Ark Royal is being sold for £3m by the Ministry of Defence (MoD) to Turkey.
Totnes Conservative MP Dr Sarah Wollaston said it was a "disappointing decision".
The MoD said it had considered a range of proposals for the vessel, but decided none were feasible.
Dr Wollaston said: "Bringing it to Torbay would have given us a tremendous boost for the local economy.
"I'm very, very, very disappointed to hear this decision, and I'll be asking some questions as to why it has been taken."
Scylla reef
The 210m (688ft) vessel, launched in 1981, was put up for sale after it was axed by the government in 2010's Strategic Defence and Security Review.
Torbay's Wreck the World organisation bid £3.5m for the ship to sink it off Torbay to create an artificial reef.
A 125-year lease for a site off the coast was agreed in principle with the Crown Estate, and the project had the backing of Torbay Council.
Michael Byefield, from Wreck the World, said the success of a previous project nearby could have been repeated in south Devon.
Former frigate HMS Scylla was sunk off Whitsand Bay in Cornwall in 2004.
Mr Byefield said: "It generated £25m to £30m in revenue to Plymouth and the surrounding areas within five years.
"As well as that, it saw 263 species colonising on the vessel, and copious amounts of sustainable jobs created."
Hong Kong
He said the Ark Royal could have generated £25m for the bay over five years.
But Philip Dunne, minister for defence equipment, support and technology, said the right decision had been made.
"HMS Ark Royal, like her sister ships, served this country with great distinction," Mr Dunne said in a statement.
"Retiring her five years earlier than planned was a difficult decision but it was the right one that, combined with her sale, has saved over £100m."
Other proposals for the ship rejected by the MoD included converting it into a commercial heliport in London, a nightclub and school in China, and a casino in Hong Kong.
An official announcement on its future will be made in the House of Commons on Monday.
The ship, which led the UK's naval forces during the invasion of Iraq, is the fifth vessel to carry the name.
The first saw battle in 1588 against the Spanish Armada.