Plymouth plankton video goes to schools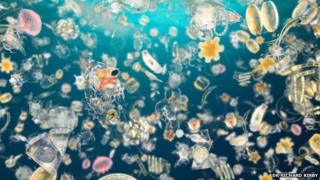 A Plymouth university scientist's film about plankton has been distributed to all secondary schools in England.
Dr Richard Kirby, 47, hopes the 15-minute video, which took five years to make, will educate children about the beauty and importance of the creatures which are invisible to the naked eye.
Ocean Drifters, narrated by Sir David Attenborough, tells how plankton made oil and gas and produce oxygen.
His film was created in his Plymouth lab using a microscope.
Raw material was gathered with a fine mesh net from the sea off Plymouth.
Just a drop of seawater can contain 3,000 plankton, but filming them was a long process.
'So captivating'
He said: "Like flowers they only appear at certain times, so there may be just one month to capture them.
"If it's windy and you can't get the boat out to sea you have missed them."
He admits filming the plankton took dedication.
"Most people said I was nuts trying to make the film, but that spurs you on to prove them wrong.
"The animals are tiny, they are moving around and magnification is up to 100 times.
"Lots of film is on the cutting room floor because they kept disappearing stage left."
Sir David gave his services free and the film, which cost a total of £100,000 to make and distribute, was funded by the Natural Environment Research Council, Carl Zeiss microscopes and the Fishmongers Company.
Dr Kirby hopes the result will inspire a new breed of plankton scientists.
He said: "You look down the microscope and it's teeming with creatures of shapes and designs you'd never imagine.
"It's like looking at the stars with a telescope, seeing supernova and gas clouds.
"You suddenly see it's a very different place to what you thought it was.
"And you are never bored because it is so captivating and beautiful.
"There's beauty in the world everywhere around us, but scientists can see the beauty in how nature is connected and that understanding enhances your life."
Ocean Drifters will be shown in an open air cinema at the Royal William Yard in Plymouth on 15 September at 20:00 BST.