Lottie Bryon-Edmond becomes Torbay organ donor poster girl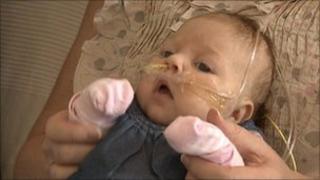 The youngest person thought to have survived a liver transplant has become the poster girl for a Devon campaign.
Fourteen-month-old Lottie Bryon-Edmond, from Torquay, underwent the transplant in August 2011 when she was five weeks old after a nationwide hunt.
She has been chosen as the poster girl by Torbay Hospital for iLIVEiGIVE - a campaign to encourage donation.
Part of the campaign includes T-shirts with codes which take smartphone-users to the organ donor register.
Lottie underwent the liver transplant after developing neonatal haemochromatosis which causes toxic levels of iron to build up in the liver.
Doctors warned she could have died at any time before the procedure and she was top of the UK's urgent transplant list for 14 days.
Her father, Chris Bryon-Edmond said: "We need to attack this organ donation issue from all angles.
"We were told she had about 14 days to live and it's impossible to put over the horror you go through knowing each day that if she starts going downhill they will take Lottie off the super-urgent list to get her a new liver, even a year-on those feelings don't leave you.
"We determined then that we were going to start raising awareness of organ donation so that no-one else had to sit beside their child's bed waiting for a phone call."
According to the NHS, one donor could save or transform up to nine lives and help others through tissue donation.
Dr Maree Wright, clinical lead for organ donation at Torbay Hospital, said: "Nearly all of us would take an organ if we needed one, yet only 30% of us have joined the NHS organ donor register.
"I hope that this campaign will encourage more people to actively demonstrate their belief in organ donation."
Earlier on Saturday, Torquay United and Plymouth Argyle football players wore the iLIVEiGIVE T-shirts during their warm-up at Plainmoor before the derby.