Cranbrook new town's primary school opens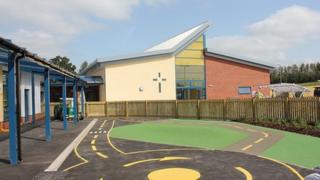 A primary school in an east Devon new town has opened its doors to pupils for the first time.
The £3.6m St Martin's Primary will serve Cranbrook near Exeter, where 3,000 homes are planned.
Children from families who have already bought homes there will join pupils from the former Clyst Honiton Primary, which has closed.
St Martin's, which has places for 420 children, is the first of three new schools in Cranbrook.
Science park
The school, which has a large playground and playing fields as well as a large woodland and a pond with a pontoon, will produce its own meals and supply other schools.
The aim is to become recognised as a Forest School for its outdoor activities.
Head teacher Tania Beard said: "The children will grow fruit and vegetables in their outside areas and our chef will include their produce in the lunches he cooks and the other meals he will produce.
"I am very excited about our incredible facilities and this once-in-a-lifetime opportunity to start a school from scratch.
"St Martin's is going to be the hub of this community and we will grow with the community."
The new town will also get a £4.5m railway station and its own combined heat and power plant, powered from sustainably-grown wood.
A community centre opposite the school with a GPs' surgery, town council and hall is also opening in September.
The new town is part of the East Devon Growth Point plan by the county council, East Devon District Council, Exeter City Council and the Homes and Community Agency.
A new business park, science park, a hotel and a terminal at Exeter Airport, will be built nearby.