Couple start 'Saying Goodbye' services for lost babies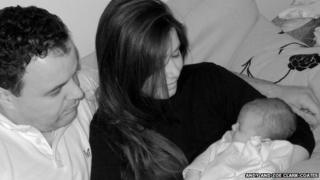 When Zoe and Andy Clark-Coates attend a Saying Goodbye service at Exeter Cathedral in Devon later this month, they will be remembering the five babies they have lost.
The service on 15 September will be the first in a series of special services arranged by the couple at cathedrals and minsters across the UK for families who have lost children during pregnancy or infancy.
The couple, who live in Devon but are originally from Staffordshire, are now "blessed" with two daughters, aged three and one.
But it was the loss of their five babies that spurred them on to set up the Saying Goodbye organisation.
"There are some really lovely remembrance services often arranged in hospital chapels or small churches, but not everyone loses a baby in hospital and what's missing is a national network, so that's what we're doing," Mrs Clark-Coates said.
"For some people who've lost a child - even if it was 50 or 60 years ago - it will be their first opportunity to say goodbye and to be with other people who 'just know' what they've been through."
'Grieving essential'
Mrs Clark-Coates said people deal with loss in different ways, but not everyone has the support they need to grieve.
"Andy and I have fully grieved. I can honestly say we could not be happier and I want people to know you can find peace and happiness," she continued.
"We were totally blessed with family support - every single person in our lives embraces us.
"Grieving is essential, but when you're in the depths of grief you don't think of looking on the internet to see if there's help out there."
By setting up the Saying Goodbye organisation, the Clark-Coates hope it will be a focal point of support which midwives, doctors, hospitals and others can recommend.
Saying Goodbye has invited three charities -The Miscarriage Association, Bliss and Tommy's - to partner it so people can access the support they need.
Mrs Clark-Coats contacted Professor Lord Robert Winston who agreed to become Saying Goodbye's ambassador.
The organisation also has the support of the Association of Early Pregnancy Units and a host of high-profile people such as Nigella Lawson, Jools Oliver and Gabby Logan.
The Clark-Coates said they have been overwhelmed by the messages of support they have received.
"We've been on Twitter for about 12 weeks now and have more than 10,000 followers," Mrs Clark-Coates said, adding that about 30% were men.
"There are so many fathers who need support."
The messages included one from Jamie Oliver, keyboardist with Welsh rock band Lostprophets, whose partner is expecting a baby and who wanted to pledge his support.
The services will include secular music, poetry readings and messages of hope and will be open to people "of all faiths and no faith".
"We hope that finally being able to say goodbye and standing in a room with hundreds of others who have been through a similar experience will be life changing," Mrs Clark-Coates added.
Although no formal counselling will be on offer, people will have an opportunity to speak to representatives from Saying Goodbye or the partner charities after the hour-long services.
Services have also been planned at St Mary's Cathedral in Edinburgh, York Minster, Birmingham Cathedral, Llandaff Cathedral in Cardiff, Bristol Cathedral and St Paul's Cathedral in London.
The Clark-Coates said at least 20 services will take place across the UK next year and they are also planning international services.